Administrator
Staff member
A rather odd spectacle of one fear-based marketer spinning crazy stories about another, in something that's will likely do nothing other than drive a few more page views in both directions. It's like they are feeding on themselves:
http://beforeitsnews.com/conspiracy...-to-obama-bloomberg-and-stratfor-2452114.html
SWITZERLAND, Zürich — Based on recent news and events, it now appears that nationally syndicated radio host Alex Jones is working in concert with the

Zionist run Obama administration

to set-up his own audience of 3 million gun-owning Americans for future acts of domestic terror. Although there are already 10 good reasons why Jones should be tried and hung for treason, this one definitely takes the cake.

Jones himself admitted as much on his

June 16, 2013, radio program

when he declared, "They wanna blow something up and blame it on us so they can then have an all-out war on us". Jones' ominous statement is partially correct except that HE himself will attempt to provocateur an all-out war against the Obama administration in the aftermath of domestic terror attacks which will no doubt be blamed on his listeners.
Somewhat tortuous reasoning there. Apparently Alex Jones is working with Obama to set himself up as a target so that when Obama creates a false-flag terrorist attack, then Obama will blame Alex's audience. It gets even more bizarre: Alex is also going to fake his own death as the trigger event for an American revolution that will then be brutally crushed to institute a new-world order.
And then an inevitable counter-spin on all of this is that the BIN story is just government disinfo designed to discredit conspiracy theorists in general.
My initial reaction was that this was just a deliberate case of stirring the pot to drive traffic to BIN, but then looking at the web site of the author, David Chase Taylor, he seems to be the type of person who actually believes the theories he writes. His site is all about how he's a nuclear whistle-blower who stopped a Nuclear attack on the Super Bowl in 2011 and is now trying to get asylum in Switzerland.
http://www.davidchasetaylor.com/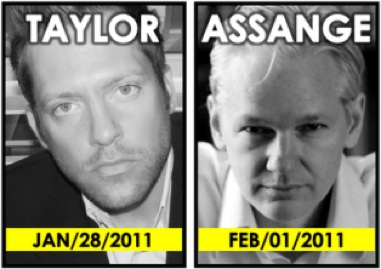 David Chase Taylor's

free ebook

entitled

"The Nuclear Bible"

is composed of over 1,000 mainstream sources that ultimately connect the dots of a nuclear terror conspiracy. The Nuclear Bible was published globally on January 28, 2011, in an attempt to stop a nuclear terror attack from transpiring at Super Bowl XLV on February 6, 2011, in Dallas, Texas.Overwhelming direct and circumstantial evidence (see below) has now surfaced surrounding Super Bowl XLV and the failed nuclear terror plot which unequivocally shows that Taylor's actions did indeed stop, or at least postpone, a

state-sponsored

nuclear terror attack upon America.

Based on the subsequent fallout surrounding The Nuclear Bible, Super Bowl XLV, and the sudden interest in Taylor by U.S. intelligence services, Taylor, fearing for his life, applied for political asylum in Switzerland on

March 8, 2011

.
So I think Taylor believes what he writes (there's no ads on his site), but then BIN is just publishing it for page views. Jones benefits either way, as for him any publicity is good publicity.
It's a reminder that there is a VAST spectrum of conspiracy beliefs, and conspiracy theories. Each individual believes that his own theory is simply common sense, and that everyone else is deluded.
Last edited: