CBC is reporting on a question before the Canadian Parliament about chemtrails, and there is a fundraiser for a lawsuit by Davoud Tohidy.
http://www.cbc.ca/the180/excerpts/2013/10/23/is-the-house-of-commons-ready-to-take-on-chemtrails/
Is the House of Commons ready for a petition about "chemtrails"?
Wednesday, October 23, 2013 | Categories:
Excerpts
| 5
Share
101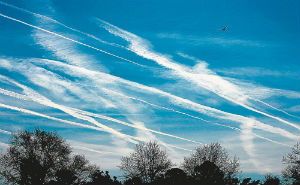 These are contrails. (Stephen M. Katz/THE VIRGINIAN-PILOT)
Listen
As if there wasn't enough going on in Parliament these days, a British Columbia MP asked that the government respond to a petition demanding action over what some people call "chemtrails." Alex Atamanenko read the petition into the official record, and speaks to Jim about why this alternative theory, dismissed by mainstream science, deserves the attention of the House.
=========================================
Lawsuit FB page:
https://www.facebook.com/GeoengineeringLawsuit
Lawsuit fundraiser:
http://www.geoengineeringlawsuit.ca/
================================
about Tohidy:
http://henrymakow.com/2013/10/doing-something-about-chemtrails.html
Tohidy seems to be operating under the "Gang Stalking" paradigm:
I started a Chemtrails Petition with the help of two cohorts. We gathered more than 3400 signatures from all over Canada. I gathered 1640 signatures in Ottawa on my own under several direct physical provocations and indirect serious threats to my life.

"They" had hired different individuals including homeless and others to block my way, prevent me from getting signatures and also, on two different occasions, three different individuals were used to physically provoke me so to create a problem and then prevent me from gathering signatures. - See more at:

http://henrymakow.com/2013/10/doing-something-about-chemtrails.html#sthash.ICiKuIZW.dpuf
"1. Preface:

I have been receiving indirect "death, blindness, Cancer, Heart Attack / Stroke, disabling,

Parkinson disease, car accident, drug dealing set up, sexual harassment set up, stealing

set up, Sexual orientation change, abduction, terrorist set up, mind control victim and be

used as sexual slave, hit by laser, to be exiled to my home country, to be exiled to out of

the city and prevented from driving and receiving mail and having access to Internet,

Electronic Harassment threat (Voice to Skull threat)" threats through instructors,

classmates, and other people as well as online on facebook since March 2009 after I talked to

Mr. Yavar Hameed, Lawyer, about the possibility of taking legal action against stalking at ……

College during 2008-2009 educational seasons. I was being indirectly encouraged to harm

people and become a serial killer by a classmate in January 2012 which was followed by

another classmate indirectly picking a name for me in March 2012. I was also indirectly

encouraged by other people, and in one occasion directly using electronic harassment to

commit suicide by falling from my apartment. Mentally unstable individuals, homeless

individuals and criminally looking individuals were and are being used to indirectly threaten me.

Starting October 2011, there has been a lot of pressure involving some classmates and other

people to pull me to places such as a restaurant and so on offering me foods that might not be

safe to eat."

(much more at link)

http://nwopbb.awardspace.info/pdfs/NWO_Article_Feb_17_13.pdf
Last edited by a moderator: