Administrator
Staff member
This thread is sticky, as it's intended as a record of all threats of violence against planes, pilots, scientists and debunkers. Please limit posts strictly to that topic. Feel free to start new thread if you want to discuss something in depth.
What you can do if you see a credible threat of violence on Facebook: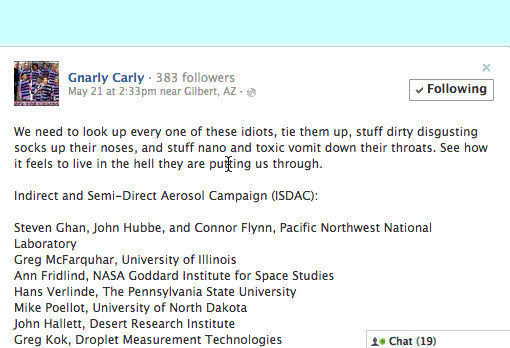 ..............................................................................
From
this review
of "Deep Green Resistance" by McBay, Keith and Jensen, which advocates illegal and even violent action in the name of ecology:
http://www.thepeoplesvoice.org/TPV3/Voices.php/2011/09/13/beyond-protest-saving-our-planet-with-de
Note the "chemtrails" link goes to an article about "Case Orange".
A Google search for
chemtrails + "shoot down"
reveals this is not an isolated random suggestion. Now while the idea is ludicrous, and practically inconceivable, we need to recognize that sometimes people do take bunk to the extreme. Timothy McVeigh, for example, was a believer in conspiracy theories about the UN taking over the US, and he ended up killing 168 people.
Debunking has a very small possibility of preventing things like that, but no matter how small the possibility, it's another reason why debunking is worthwhile.
Last edited: