Administrator
Staff member
This thread is sticky, as it's intended as a record of all threats of violence against planes, pilots, scientists and debunkers. Please limit posts strictly to that topic. Feel free to start new thread if you want to discuss something in depth.
What you can do if you see a credible threat of violence on Facebook: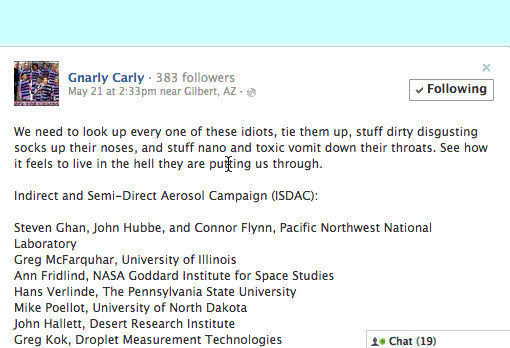 ..............................................................................
From
this review
of "Deep Green Resistance" by McBay, Keith and Jensen, which advocates illegal and even violent action in the name of ecology:
http://www.thepeoplesvoice.org/TPV3/Voices.php/2011/09/13/beyond-protest-saving-our-planet-with-de
DGR elaborates on overall strategy and specific tactics. It shows conclusively how past strategies and tactics "ranging from ineffectual to ridiculous" have failed.

Lighting candles, waving protest signs, or lobbying power as if it has a conscience has not stopped the ongoing destruction of Earth. At best, arrested protesters get publicity. But the business of destroying our planet proceeds unabated.

[...]

To prove this, DGR points out that Ken Saro-Wiwa and his nonviolent group were likewise unable to stop Royal Dutch/Shell's ongoing destruction of Nigeria. After he and eight others were executed, a militant group (

MEND

) has since stopped a third of oil production in the Niger Delta. They did this with acts of sabotage and direct violence against drillers. Their motto is, 'if you stay here, you die here.'

[...]

Hell, I'd be happy if militants blocked the delivery of

fluoride

to my city's water plant. Even better, a group of conscious insiders could simply not add the

agro-industrial waste

. Probably more important, a halt to

fracking

would certainly help the biosphere, including us humans.

And I can't tell you how many times I've fantasized about firing a missile at the jets laying chemtrails over our skies.

Nature helped recently. No chemtrails were laid during Hurricane Irene. For the first time in rural Florida, I saw thousands of stars and an arm of the Milky Way. A friend in New Jersey noticed the same thing. She cried.
Note the "chemtrails" link goes to an article about "Case Orange".
A Google search for
chemtrails + "shoot down"
reveals this is not an isolated random suggestion. Now while the idea is ludicrous, and practically inconceivable, we need to recognize that sometimes people do take bunk to the extreme. Timothy McVeigh, for example, was a believer in conspiracy theories about the UN taking over the US, and he ended up killing 168 people.
Debunking has a very small possibility of preventing things like that, but no matter how small the possibility, it's another reason why debunking is worthwhile.
Last edited: