While looking for images of the meteor seen over Arizona this morning, I happened to come across this story of a supposed meteor trail seen near Perth in June 2012:
http://www.perthnow.com.au/news/met...ing-up-perth-sky/story-e6frg12l-1226413309565
Meteor plunges into ocean lighting up Perth sky

DAVID GEAR AND DAVID PRESTIPIN


THIS fiery streak in the sky amazed Perth beachgoers at sunset after a suspected meteor plunged into the ocean off the WA coast.

PerthNow reader Gavin Trought snapped the 'fire in the sky' as it appeared over Cottesloe just before sunset on Friday, with remnants of the phenomenon still visible in the sky this afternoon.

"The weird streak in the sky as seen from Cottesloe last night. I noticed it just before sunset," he told us.

Perth journalist Pip Moir also posted the photo she took at Cottesloe Beach to Twitter shortly after 6pm as puzzled onlookers debated what caused the colourful phenomena.

Daniel Jongue, manager at The Naked Fig Cafe, said he noticed "something on the horizon'' just before sunset.

He said the fiery trail took about 20 minutes to dissipate.

"It looked like vapour. It was red, orange and yellow and quite beautiful,'' he said.

A spokesman for the Bureau of Meteorology said the weather bureau's radar would not pick up a fast moving object like a meteor.

Perth Observatory and Astronomy WA said Perth rarely gets glimpses of meteors and the UFO was more likely contrail from an airplane .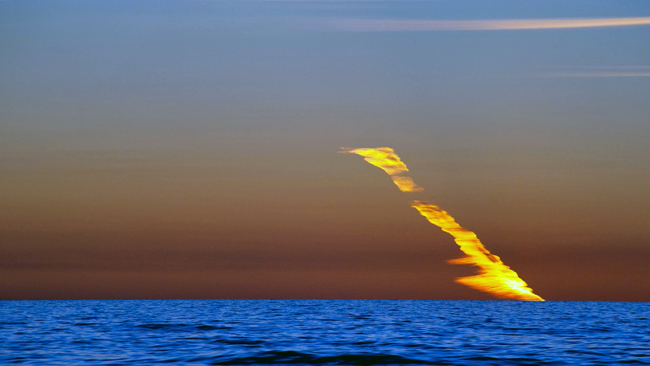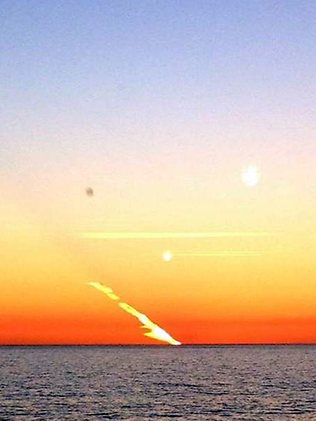 It clearly resembles a sunlit contrail, so as the Planefinder.net playback goes back many years now, I thought I'd see what was likely to be responsible.
Sunset on the day in question, June 29, 2012, in Cottesloe was at 5:23pm local time (9:23am GMT).
The picture taken around sunset appears to show a shadow indicating that the contrail was almost aligned with the direction of the sun, and passing south of the observer's viewpoint. Looking at the angle of the sunset this implies the contrail was roughly northwest-southeast: (NB Sunset shows at 10:23am BST, my current time zone)
There were a couple of flights departing Perth shortly before the time in question, but they seem to take a route too northerly to be responsible.
In my opinion it may well have actually been caused by a flight heading towards the coast: this Emirates flight into Perth. By the time the photos were taken, it would have descended below contrail altitude and the plane would have been essentially invisible:
The fact that the more distant part of the trail appears to be more spread out than the nearer part would seem to back up this theory, despite observers claiming to have seen an object "falling".
Last edited: