In the mid 1940s a woman took a photo of her daughter's grave. When the photo was developed, on the image she saw a supposed ghost of an infant. The supposed ghost wasn't her daughter as her daughter was 17 when she died. Is there any other explanation for this photo aside from it being a ghost, or is this evidence for ghost existing?
I've originally found out about this photo in Matthew Santoro's most recent video:
10 mysterious photos that shouldn't exist
. This photo was at number 2 (from 1:42 to 2:26).
The transcript of that section:
Matthew Santoro:
"Number 2 is the ghost baby. In Queensland, Australia in 1945 a mother named 'Miss Andrews' went to visit the grave of her late daughter and decided to take a photograph of the gravestone.

Upon developing the image, she noticed the ghostly image of a young child staring right back at the camera.
Now, Miss Andrews did not recognise the child as her own daughter because her daughter died at the age of 17- much older than the apparent age of the infant. However, perhaps what is the most chilling about this, is that a paranormal researcher went to that very grave to find a possible explanation for the picture and found a nearby grave dedicated to 2 infant children.

To this day, there is still no explanation as to the apparent apparition in the image..."
I believe this is the source he used for the video:
http://paranormal.about.com/od/ghostphotos/ig/Best-Ghost-Photos/Cemetery-ghost-baby.htm#step-heading
(Image of the alleged Ghost baby)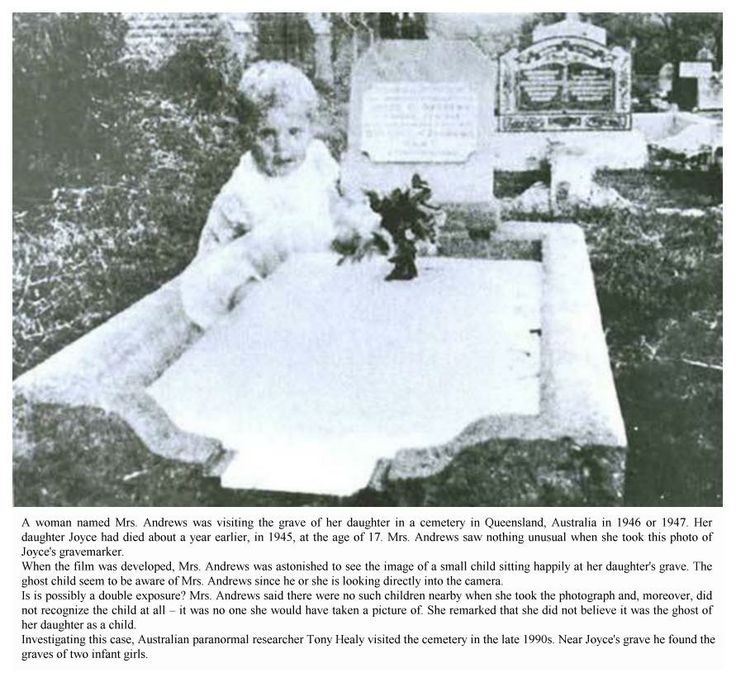 Last edited: