The man suspected of opening fire in a historic black church in Charleston, South Carolina, on Wednesday night, killing nine people, has been identified as 21-year-old Dylann Storm Roof, an FBI spokeswoman told The Post and Courier.
Denise Taiste, the FBI spokeswoman, confirmed Roof's identity Thursday morning and described him as a resident of the Columbia area. He remains at large.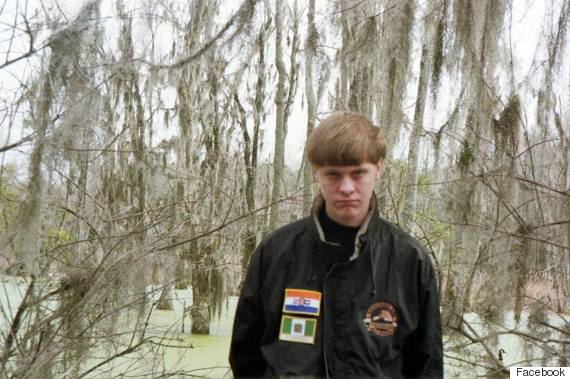 Law enforcement described Roof as 5 foot 9, with a slender build and sandy blond hair shaped into a bowl cut. He was last seen wearing a gray sweatshirt, jeans and Timberland boots and was driving a black sedan.
Roof's Facebook profile picture shows him wearing a jacket decorated with patches of the South African apartheid-era flag and the Rhodesian flag.
Roof's uncle, 56-year-old Carson Cowles, told Reuters he recognized his nephew in the surveillance photos released by police.
"The more I look at him, the more I'm convinced, that's him," Cowles said. He added that law enforcement officers visited the home of Roof's mother on Thursday morning.
Roof is suspected of opening fire in the Emanuel African Methodist Episcopal Church during a Bible study meeting at around 9 p.m. Wednesday. Eight people were killed at the scene, while a ninth person later died in the hospital.
Witnesses said the gunman spent about an hour inside the church with victims before the shooting.
Police have not released the identities of those killed, but state House Minority Leader Todd Rutherford told the Associated Press that the church's pastor, Clementa Pinckney, was among the victims.
Pinckney, 41, was a state senator and a married father of two.
The FBI and Department of Justice are investigating the shooting as a hate crime.
"The only reason someone could walk into a church and shoot people praying is out of hate," Charleston Mayor Joe Riley said at a Thursday news conference. "It is the most dastardly act that one could possibly imagine."
Emanuel is the oldest African Methodist Episcopal church in the South. In 1822, one of its founders, Denmark Vesey, organized a major slave uprising in Charleston, but authorities quashed the rebellion before it could happen.
UPDATE: 11:25 a.m. -- Multiple outlets are reporting that Roof has been apprehended in Shelby, North Carolina.