Metabunk
A
misleading headline
is making people think that a physical object has been teleported from the ground into space, leading to all kinds of excitement and speculation about Star Trek style teleporters.
In fact nothing like that has happened at all, if you actually listen to the BBC piece, you'll find that what has been transmitted is just
information
. Nothing physical has moved from the ground into space.
There's a similarly misleading story from MIT's Technology Review.
https://www.technologyreview.com/s/608252/first-object-teleported-from-earth-to-orbit/
The above image appears to show three different metal rods. The left rod is short and straight. The middle rod seems longer and angles sharply to the right. The right rod appears slightly curved, and has a longer segment going off the edge of the photo.
Actually the rods look like this:
Despite the left rod looking like it's just a few inches, it's actually five
feet
long. And even though the right rod looks like it's bent very close to the end it's actually bent in the middle, as is the center rod.
I set this up to illustrate some of the problems in visualizing both contrails and the paths of planes that don't leave contrails, especially those that are far away, and so at a shallow angle to the viewer.
In particular, look at the...
Something that has recently been presented as evidence of faking the space program, or even of a "Flat Earth" is the occasional discovery of what looks like a crashed satellite, but one that has more gracefully descended to Earth on a balloon. One such example is the video "
Satellite crashes in Brazil - attached to a balloon - Nasa lies, research Flat Earth
"
The mystery is quite easily solved just by reading the blue and white sheet of paper in a ziploc bag attached to the side of the "satellite" (which actually landed on May 15, 2017)
Source:
Youtube: Project Loon: Strange object falls in the rural area of Macaúbas-BA.
It says "CONTACT PROJECT LOON RECOVERY TEAM" and...
Source: (MUFON case 84702)
A variety of images reported as "UFO"zm show what looks like a glowing disk with some dots on it. These basically look like lens flares, but the dot patterns are unusual, as they vary from irregular, regular, or or semiregular patterns. However they still look very two dimensional - they don't seem to curve around the "orb". Here's a collection of similar images all claimed as "UFOs"
What we are seeing here is a reflected image of the sun with the highlighted reflections of
focus pixel.
...
In the recently published paper
Improving Climate Change Acceptance Among U.S. Conservatives Through Value-Based Message Targeting
, (Dixon, et al, 2017) the authors describe the problem of communicating established science regarding climate change to a conservative demographic.
4x vertical scaled. Lunada Canyon, Rancho Palos Verdes, California. 33.767482853°, -118.408898009°
Source: https://nobodyhikesinla.com/2010/12/06/lunada-canyon/
The horizon is visual line that separates the earth from the sky. On land this is usually nearby hills and is quite uneven, but if you have a good view of the ocean the horizon appears as an essentially flat line between the sea and the sky.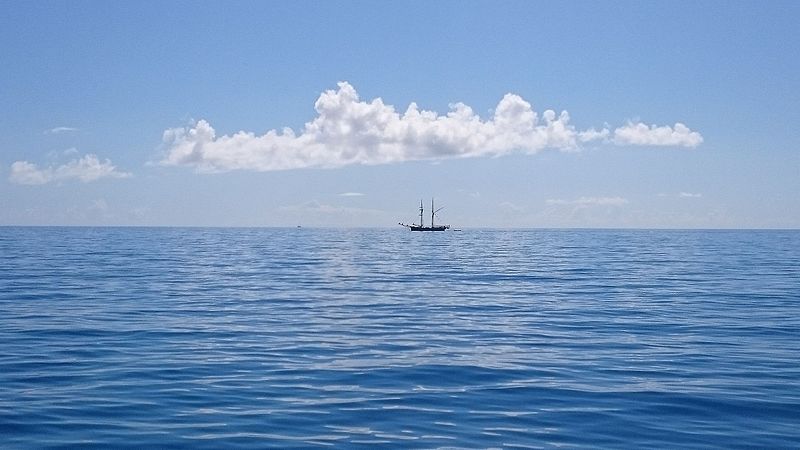 Image Source: https://commons.wikimedia.org/wiki/File:Sailing_Boat_Horizon.JPG
It looks flat, and in fact the horizon IS geometrically flat. Since all the points on the ocean horizon are the same distance away from you, and the same distance below you, the horizon forms a flat circle with its center some...
A
documentary from Gaia.com
claims that what looks like a mummified corpse is evidence of a new species, possibly of extraterrestrial origin.
Now several red flags pop up. Most immediately that Gaia.com has a history of creating videos promoting the idea of ancient aliens, none of which panned out into actual evidence.
​
But what of the mummy itself? It's claimed that it was found in the Nazca region of Peru. This makes some sense as similar human mummies have been found in the region (which is very dry, and so bodies protected from the elements are naturally preserved by drying out).
https://en.wikipedia.org/wiki/Chauchilla_Cemetery
Source: https://www.youtube.com/watch?v=epa6WxEw1Xk
This video by YouTuber LouB747 has been shared thousands of times on Facebook, and many people think it shows some kind of deliberate spraying, a "chemtrail".
The video looks very odd if you don't know what you are looking it. It's a Boeing 787 that's flying more or less on an opposite track to Lou's plane, but about 1,000 feet lower. It starts out looking like this:
Similar videos have show up before, when the conditions, lighting, and angles are right. This one is from 2010.
Source: https://www.youtube.com/watch?v=xl6iR7w7a_Q
In the new video there's a similar combination of the right angle,...
I just read an article by Maarten Boudry, where he argues that the practice of spotting and pointing out fallacies is over-used in the skeptical community.
https://maartenboudry.blogspot.com/2017/06/the-fallacy-fork-why-its-time-to-get.html
In a video titled "
*** 4,519 MILES & NO CURVE! Globe Debunked Once And For All *** RESEARCH FLAT EARTH
", Youtuber
Paul On The Plane
uses a phone with a virtual bubble level app in two locations: Seattle, in the North West of the United States, and Dublin, Ireland.
He first resets the level in Seattle with the phone of the floor, and then switches off the phone. Then after arriving in Dublin he turns on the phone on the floor, and the level reads about the same as it did in Seattle. He claims this is proof that the Earth is flat.
Of course it's not, simply because the phone is measuring which direction is
down
, i.e. it's measuring the direction that gravity pulls things, which is towards the...